LATEST REVIEWS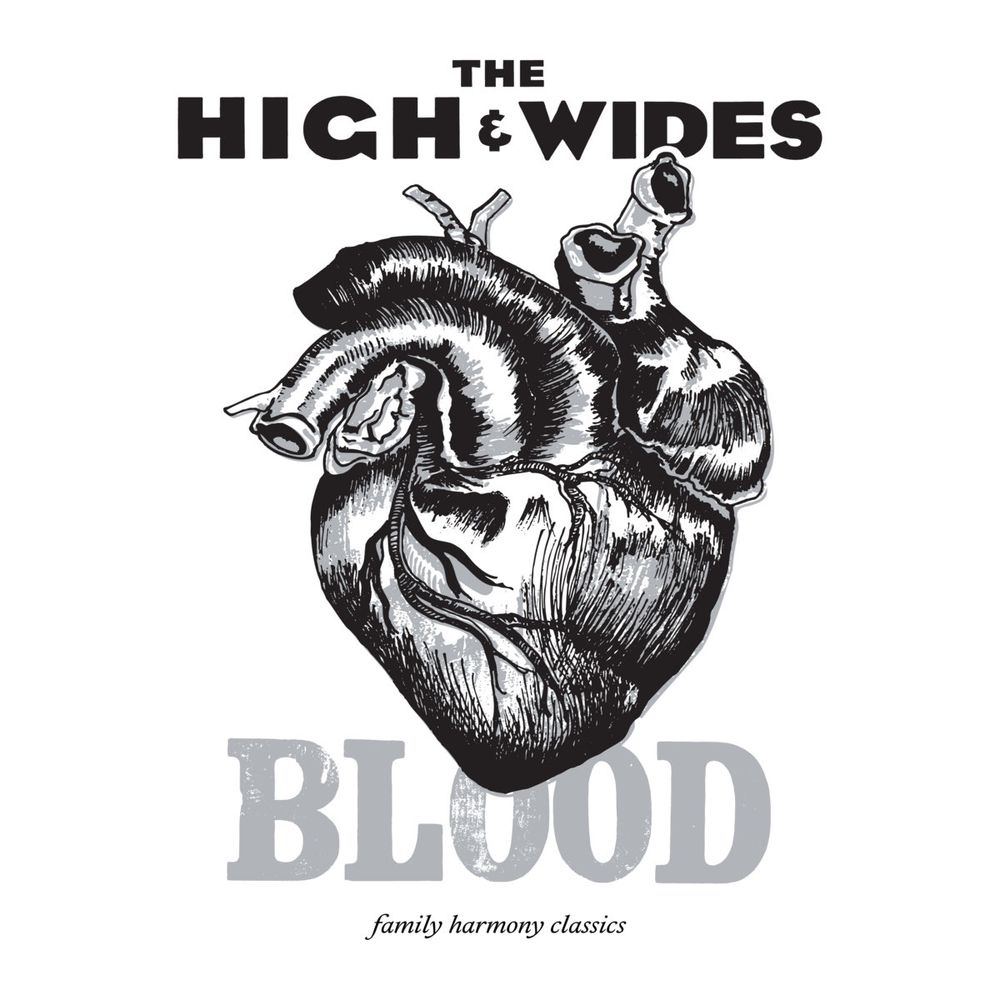 Blood – self-released (2022)
The High and Wides
Like I've said – sometimes you need to pause a little and maybe even think about where you came from and what made you end up where you are. That's just about what the four guys of the band "The High & Wides" had in mind when they were planning their third full-length album called "Blood". It's a concept album that seems to pay homage to and about the family duet singing tradition in bluegrass.
"… our aim for album number three was to look back to our beginnings by selecting and featuring examples of the two-part harmony singing style that inspired us to form this band," they say about this album. So, the song selection contains material by the Carter Family, Monroe Brothers, Louvin brothers as well as the Stanley Brothers. But also tracks inspired by the Blue Sky Boys, the Delmore Brothers and Rusty and Doug Kershaw. A great assembling of songs that not everybody might know because they're not the most famous of these extraordinary artists. These songs seem to be the band's favorites. Probably the tracks they've sharpened their musical skill on in the rehearsal room long ago.
The High & Wides started off around 2015 and released their first album "Lifted" in 2018. Highly acclaimed, it was followed by "Seven True Stories" in 2019. Both albums consist of original material and truly marked their own distinctive style. For me, they are modern traditionalists, though the Washington Post called them "apostles of hillbilly boogie". So it seems appropriate that these gentlemen pay tribute to where they come from and give us listeners the chance to take a look inside their hearts. The High & Wides are Marc Dykeman: guitar and vocals, Mike Buccino: bass, Sam Guthridge: banjo, mandolin and vocals and Nate Grower: fiddle.
All in all, it's like a roller-coaster trip through the thirties and forties of family bluegrass with two-part and three-part singing. From bluegrass and folk through the gospel, past the beginnings of rockabilly by the up-tempo classic country, western swing and over to blues and sad waltzes to end up with bluegrass again. They don't copy the songs originally but perform them as they hear them, preserving the harmony vocals and the special feeling of family singing.

"In place of stylistic authenticity, we share the spark that made these songs alive to us and hopes the glimmer translates."

And, yes, they've reached their goal. The album is available worldwide and you can check it out on the band's website.
Reviewed by:
Severin Theinert for
Uncut Grass
March 2022
Live In Asheville – self released (2022)
The JackTown Ramblers
It's my pleasure to announce that one of my favorite bluegrass bands is about to release a self produced live recording. Yes – all live! Four musicians around one microphone up on stage. No overdubs, no tracking, no second chance. Just the way music was meant to be performed. Especially bluegrass music. And you can hear it right from the start that the Ramblers feel right at home. They're in their element. Maybe it's because we all have been missing live shows so very much. But this recording really hits the spot.
With the release of their album 'Ramblin' On' last year this band set a high mark. With a great collection of songs, including well written original material, and a bandwidth of stylistic capabilities from swing and gypsy jazz over classic country and string band, to full-on hard driven bluegrass. So, it's no surprise this is what you get from their live show and on this live recording. The record was recorded at the iconic Isis Music Hall in Asheville NC on January 22nd this year.
The band is comprised of Gabriel Wiseman on mandolin and vocals, Mike Ramsey bass and vocals, Shannon Leasure playing guitar and vocals and Brett Setzer on banjo and vocals. But like always it's not about the single musicians but the sum and the alchemy of an ensemble. If there is any group of musicians that deserve the designation of "band" then it's The JackTown Ramblers.
This set definitely provides three pillars with Bob Dylan's 'You Ain't Goin' Nowhere', Billy Joe Shaver's 'Georgia On A Fast Train' and John Hartford's 'Howard Hughes' Blues' from the milestone album Morning Bugle. And the whole well balanced performance ends with Lonzo & Oscar's 'Tickle The Tom Cat's Tail' – awesome. This band is mature and experienced on one hand but still young, fresh and curious on the other. You can hear it in every single track, how they continually amaze and surprise one another, all for the sake of the ensemble's production. And you certainly can feel the fun that these guys have pouring all their hearts into their show.
They manage to give classic George Strait songs their own distinctive note, as well as Django Reinhardt's 'Sweet Sue'. Even the gospel tune 'Paul And Silas'  by The Stanley Brothers from Good Old Camp Meeting Songs from 1962 is given new life. The JackTown Ramblers animate these vintage tunes with their own artistic mastery.
Make sure to check out this band. Try to catch them live, buy their record Ramblin' On and get your hands and ears on this new milestone: The JackTown Ramblers Live In Asheville!
Reviewed by:
Severin Theinert for
Uncut Grass
March 2022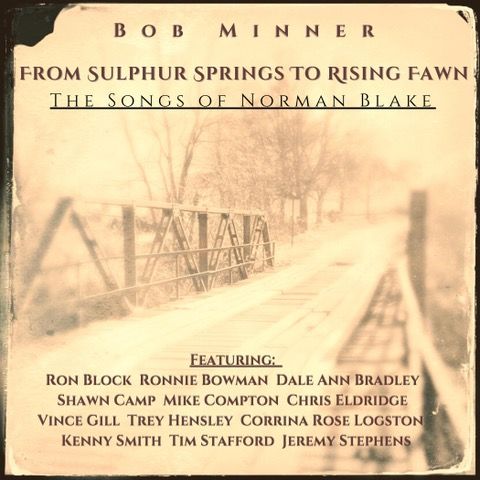 From Sulphur Springs To Rising Fawn The Songs of Norman Blake – Engelhardt Music Group (2022)
Bob Minner
It's a special time in the year … this moment right before spring. In Germany and middle Europe we witness the natural event in the middle of March: Sahara sand. At this time for one or two days, the world turns kind of yellow or beige. The light is dim and everything looks a little like through a sepia filter. It makes you talk a little quieter, makes you walk a little slower. It might even make you want to hold your breath for a second, yet know something good is about to come. Everything is a tad surreal. On my way home from work today just this has happened. But lucky me, I had my earphones in and was listening to this new album by Bob Minner and it fit the moment perfectly. It made me pause a while, take a deep breath and be thankful just to be alive.
This record is courageous and sensitive at the same time. Courageous to pay tribute to the mighty body of work and art by the great Norman Blake. Yet sensitive and tender with each and every song and tune that was chosen. Turning every track into a bud of spring flowers in the middle of an old and well-known meadow of music.
I don't think that I have to explain the grandeur of Norman Blake. The quality of his songwriting or its meaning to American music. Just having turned 84 earlier this month, Norman Blake looks back on a musical career of over five decades. As an instrumentalist as well as poet and songwriter but also as a mentor and good spirit to the whole bluegrass and folk-music community.
"This collection of Norman Blake songs doesn't even begin to scratch the surface of his body of work. However, I settled on these 15 songs, many well known and loved by Blake fans, others perhaps obscure, because they collectively represent some of my favorites..." says Bob Minner. 
And you can hear the love and respect that he meets the songs with as well as the instrumental emotion. There is an impressive list of collaborators Bob Minner can fall back on: Tim Stafford, Kenny Smith, Ron Block, Ronnie Bowman, Jeremy Stephens, Trey Hensley, Dale Ann Bradley, Mike Compton, Shawn Camp, Chris Eldridge, Corinna Rose Logston and Vince Gill. Yes, seriously. But not all at once. 
I won't go on and try to describe the tunes to you. But I have to mention the only track that has more than one or two musicians: "On & On & On" from the 1994 album 'Passing Along This Way' by Norman & Nancy Blake. Bob Minner plays the clawhammer banjo on this one and Corrina Rose Logston shares the duet vocals with her husband Jeremy Stephens, both from High Fidelity. Bob Minner does a lot of singing himself on this album but I think it was a great idea to leave this particular song to a couple. Just listen to this one song and you will want to check out the entire album. I also need to note the high standard production by Adam Engelhardt along with Bob Minner on this outstanding new release.
Reviewed by:
Severin Theinert for
Uncut Grass
March 2022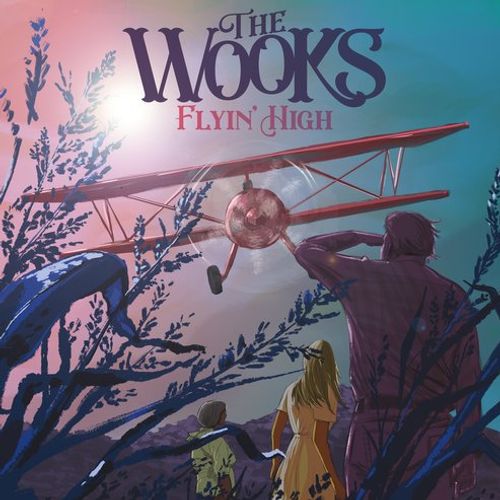 Flyin' High – self released (2022)
The Wooks
All good things come in threes, it says. So, after the debut album "Little Circles" in 2016 and the highly acclaimed sophomore record "Glory Bound" from 2018, we are about to witness the release of the third official full-length album by The Wooks called "Flyin' High"! I've followed them from the start - on the internet and by purchasing their records – and they have developed continually. The musicianship as well as the songwriting and ensemble playing.
The Wooks 2022 is made up of CJ Cain on guitar and vocals, Harry Clark on mandolin and vocals, Allen Cooke on dobro and George Guthrie on banjo and vocals. They are accompanied here  by Nate Leath and Jesse Wells for the fiddle parts, and Johnny Calamari and Mike Bub playing the bass. These guys have really grown close over the years. Always keeping their eyes and ears open and reaching beyond the confines of the mainstream bluegrass horizon. Focused on the intersection of traditional bluegrass, jamgrass, folk and rock music to create their special sound.
I suggest you try these three songs first if you have never heard The Wooks before: Track one is a beautiful version of Willi Carlisle's song "What The Rocks Don't Know". Originally a folk song performed a-cappella by Carlisle, the band really shapes it into what could be a bluegrass standard with amazing harmony vocals.
The second cover song on the album and the second song that marks their unique territory for arrangement capability is track eight: "Iron Ore Betty" by John Prine. A southern rock song with a slight taste of R'n'B to it. The Wooks have turned it into an exciting banjo driven bluegrass stomp, with great mandolin work and the resonator knocking out the main theme beside the banjo.
The third tune in this triangle for me is the first single of the album, the original "Flyin' High". A beautiful folk anthem starting off with the dobro and fiddle, ever so sweetly. Taking up a The Band – like vibe with their rhythm and harmony vocals. It even has a little bit of 'Tupelo Honey' in it as it tells two different love stories and the ways of life. My absolutely favorite line is in there too: "Well, a cherry pie and a jar of shine will make you think of Rose." … I mean, c'mon! And then it all tumbles down into the chorus again that makes you feel the warm sun and breeze through a meadow on a summer's evening. Yes, a song this good can make you actually see and smell things.
But of course these three tracks are not the only ones. The others, all originals by the way, offer a diversified approach to acoustic string music. Just listen to the instrumental "Madison Chimes" by banjo player George Guthrie. A beautiful up-tempo banjo theme in minor key with a creepy and somehow European vibe to it. Where all the musicians totally show their skills in their breaks until the whole thing ends up with banjo and mandolin duetting the theme – awesome.
I've always loved this band. Sometimes in a relationship you're not quite sure why you're clinging to each other and after some time you get to know each other and yourself better. And all of a sudden you totally see clearly why you're in love. And this third record marks this moment for me with The Wooks!
Reviewed by:
Severin Theinert for
Uncut Grass
February 2022