Featured Album ReviewS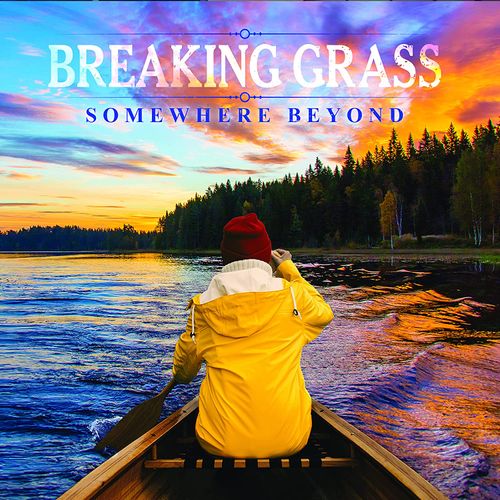 Somewhere Beyond – Mountain Fever Records (2022)
BREAKING GRASS
This is album number six since their first self-titled album in 2011. They're playing together for fourteen years now and they don't seem a bit tired. Breaking Grass '2022' is Cody Farrar on guitar and lead vocals, Jody Elmore on banjo and harmonies, Britt Sheffield on bass and harmonies, Zach Wooten on mandolin and harmonies and Tyler White playing the fiddle. They've received support for this project from Randy Kohrs (dobro) and Aaron Ramsey (lead vocals). Aaron Ramsey also recorded, engineered, mixed and produced the album for Mountain Fever Music. And yes, he did a great job.
I suppose it must have been great fun to work on this ten-track album with all original songs. All of them were written by the lead singer Cody Farrar with one co-write on 'The Gift' by none other than Ronnie Bowman. By now the band has established their very own sound and style of contemporary bluegrass. Without any fear of strolling through rock, pop, jazz and some country music. "Money Can't Buy You" even reminded me a little of the great Lyle Lovett with a swinging attitude and great humor in the lyrics. And what is more: awesome vocals. The soulful deliverance of lead and harmony vocals is also highlighted in their single "Pauline". Maybe the most traditional attempt on this record. But still, the band finds their very own characteristic arrangements. What a great love song – makes you want to hear it performed live.
Another one of my favorites on this album is "Outrun The Wolf". It creates an atmosphere and emotion I already liked about Breaking Grass on their records "Cold" and "Warning Signs". Cody Farrar puts some grim themes into great melodies and connects them with his intense performance. And their closing with the beautiful and forgiving "Down In The Darkness", a heartfelt waltz about faith and salvation.
All in all Breaking Grass has delivered a solid and unique album with a distinctive mixture of great acoustic music styles, superb vocal arrangements and sensitive production.
Reviewed by:
Severin Theinert for
Uncut Grass
September 2022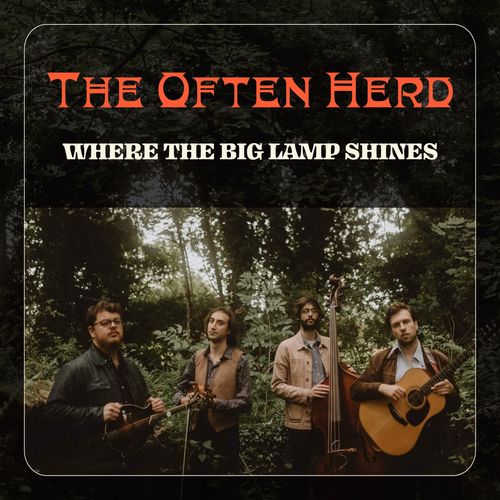 Where The Big Lamp Shines – self-released (2022)
The Often Herd
And now for something completely different... bluegrass from Northern England. Modern, exciting and crossing borders. The band is Rupert Hughes playing the guitar and singing lead and harmonies, Evan Davies on mandolin also singing lead and harmonies, with Niles Krieger playing fiddle and guitars and singing and finally Sam Quintana on the bass. They are supported by several musicians on saxophone as well as on drums. The marvelous Tabitha Benedict, known for her work with Cup O'Joe, Midnight Skyracer and The Foreign Landers, plays the banjo on two tracks.
They've been around a while already as 'The Kentucky Cow Tippers'. Playing all the festivals in Europe and the UK they even released an EP with four original tracks and a long player. In 2018 Hughes and Davies released their first 'Often Herd' EP together with Quintana and Krieger. And kept playing live as many shows as they could get. Also in 2018 they also received quite a lot of recognition by winning the European band contest at the famous La Roche Bluegrass Festival in France.
Since then we all have been waiting for them to release a whole album with original tracks. Well, here it is. And let me tell you it's impressive. Ten tracks – eight songs and two instrumentals – all originals are creating a microcosm of bluegrass, folk, country and jazz or if one might like to say so: British Americana. From the first track, the thrilling and impulsive 'Inner Peace' to the more melancholic closing track 'I Was', with a bit of a Scottish feeling to it. A very special feeling to it, with obviously a lot of live experience and well-balanced arrangements and what is more: great singers.
The song 'Casablanca' has a Byrds feeling to it. Coming along with subtle drums and a really nice twangy telecaster guitar. Followed by one of the instrumentals called 'Sycamore Gap'. A nice and swinging bluegrass fiddle tune with some sort of fiddle and mandolin battle rounded by Tabitha's banjo.
On their website, The Often Herd describe themselves as Newgrass from Northern England. But I'm tempted to say that they are way more. In a positive and distinguished way they have brought together ages and cultures and musical inheritances to form music that makes us feel at home. As if we'd heard it often yet it's still new. Let me just close with these three lines the album closes with:
"I was a man who could move boulders – I was a boy who told the time wrong – I was a soul who wrote a song every day."
Reviewed by:
Severin Theinert for
Uncut Grass
September 2022