Featured Album Review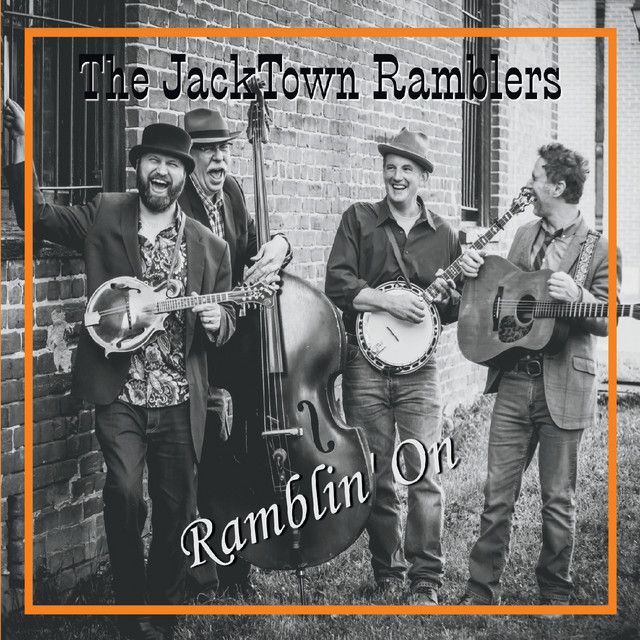 Ramblin' On – self released (2021)
The JackTown Ramblers
This is the first album of the four piece bluegrass band called the JackTown Ramblers. With Shannon Leasure on guitar and vocals, Gabriel Wiseman on mandolin and vocals, Brett Setzer on banjo and vocals and Mike Ramsey playing the bass and also contributing lead vocals on two tracks. I ran across them because of Gabriel Wiseman and his extraordinary mandolin skills, and have been eagerly awaiting the release of this album ever since. The waiting was worth it.
This album has such a warm and heartfelt vibe to it that you will fall in love with it from track one: Lefty Frizzell's, "She's Gone, Gone, Gone". Followed up by David Grisman's "Cedar Hill," in a superb rendition. These two tracks alone show the demands this band is able to meet and capability they have. Track number three is an original by Mike Ramsey. It plays along with the potential of becoming a bluegrass classic already.
Seriously – this record contains all of what bluegrass is about, in my humble opinion. Good song selection, from old-timey traditional stuff to folk and jazz, and back to country and bluegrass. With awesome harmony vocals and instrumental skill that serve the songs beautifully, and never show a hint of overbearance or ego in their playing. The best example might be the great "Ophelia" by The Band. It takes some backbone to cover a tower of a song like this. But these guys handle it just like "Tipsy Gypsy". They make this song their own. Quite nonchalant but retaining their respect. And…. great big respect for traditional bluegrass all over.
Also worth a mention are the other two original tunes. Track 6 "Raindrops," by banjo player Brett Setzer, and the final track "Another Girl Left Crying," by Gabriel Wiseman. Another one that could easily become a bluegrass standard.
Let me add in a quote from Darren Nicholson of Balsam Range: "As I sit here enjoying the new release by my pals, The JackTown Ramblers, it hits home. It's heartfelt music, delivered in an honest way, that is true to our southern Appalachian heritage. It's good clean picking, fun, energetic music that you will be tapping your toes to. Enjoy!! I sure did." 
Yes, Darren, I do too!
Reviewed by:
Severin Theinert for
Uncut Grass
August 2021