Featured Album ReviewS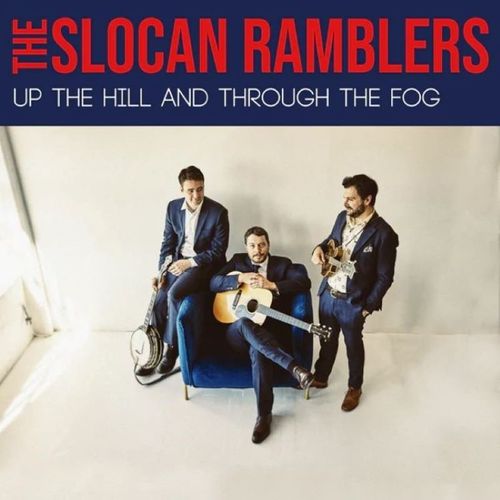 Up The Hill And Through The Fog – self released (2022)
The Slocan Ramblers
This is the fourth release of The Slocan Ramblers. The 2020 Momentum Band Of The Year (IBMA) has grown far and above that. This new album hits the nail on the head! Twelve tracks in every color of bluegrass and a superb Tom Petty cover are carrying us through the microcosm of the band. The 2022 band is Frank Evans: banjo, vocals – Darry Poulsen: guitar, vocals – Adrian Gross: mandolin, vocals. Supported by Charles James: bass. And all of the three main members write songs and sing lead.
This album was written during the pandemic and the lyrics reflect a lot of the insufficiency we all experienced. Two of the band members even lost family members during this time. Take a good listen to the opener 'I Don't Know' or the beautiful 'The River Roaming Song'. Both are powerful examples of turning a personal experience into a universal feeling we all can relate to. Transported by powerful and uplifting bluegrass music.
The band knows their way around bluegrass music history. They know it so well that it all seems so effortless. Their musical vocabulary is so big that all of them can easily form their musical sentences and take them in their very own direction. It's new bluegrass on the fertile ground of tradition. The last track 'Bring Me Down Low' might be the best example of what I mean. It has an almost pop-like melody surrounded by a great up-tempo bluegrass drive and is introduced with an awesome mandolin lick. With great singing, tight harmonies in the chorus and well-tempered breaks.
One of my absolute favorites though is 'You Said Goodbye' by guitar player Darryl Poulsen. This is bluegrass in overdrive … it's a really fun ride. Simple, straightforward, up-tempo, sad and funny all at the same time. One can easily imagine hearing this at any festival. I should also mention the instrumental tunes on this album. 'Snow Owl', is a mid-tempo mandolin tune with kind of a melancholic chord progression, and the banjo tune 'Platform Four' with an old-timey clawhammer vibe. Followed up by the 'Streetcar Lullaby' waltz, which is taking you down a whole different track. Last but not least their great take on Tom Petty's 'A Mind With A Heart Of Its Own' from the Full Moon Fever album. It almost seems to be the theme song for what the band had in mind when they were recording their very own yet universal version of a bluegrass record.
This album hits the mark, all at once making me think and laugh and tap my toes. This album buries my troubles.
Reviewed by
Severin Theinert for
Uncut Grass
July 2022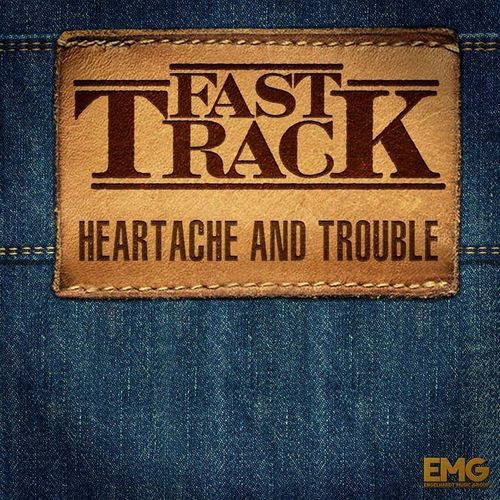 Heartache And Trouble – Engelhardt Music Group (2022)
Fast Track
This is easily one of my favorite bands right now. Those of you who follow me on Facebook probably will figure. It's the combination of musicians, all their experience and their own special approach to traditional bluegrass. Playing it tight and modern with extraordinary instrumental skills as well as high-class harmony singing. Anywhere great bluegrass music has been played the last thirty years or more at least one of the band members has been around. When I first heard that Jesse Brock was about to leave the band I initially felt sad but when I heard they were able to win Shayne Bartley over to take his place, I was happily relieved and excited. 
This time we get ten tracks. Some from writers such as Gerald Evans Jr. or Lowell Varney but also Bill Monroe and Carter Stanley, three originals by Ron Spears and last but not least the 1968 'Ballad Of Bonnie And Clyde' by Merle Haggard. The band and the production team with Glen Duncan and Adam Engelhardt have used their alchemy to melt it all into a first-class bluegrass album.
No matter if you pick the singles 'Plain Old Country Boy' and 'Heartache And Trouble' or songs like 'Hurts All Gone' or the absolutely terrific 'You No Longer Believe In Me'. The final track of the album and a Ronald Spears original is a classic bluegrass waltz about a relationship and its faded trust. With a beautiful violin theme, stunning lead vocals and great harmonies it takes you back to the fifties. Ron Spears manages it to a fluid performance. His other song 'Jenny Lynn' perfectly merges with Monroe's 'Mary Jane Won't You Be Mine' and 'Sweetest Love' by Carter Stanley. This man knows how to write a song and how to arrange it.
Enough said! This is a superb effort by an incomparable band. Thank you Fast Track!
Reviewed by
Severin Theinert for
Uncut Grass
July 2022