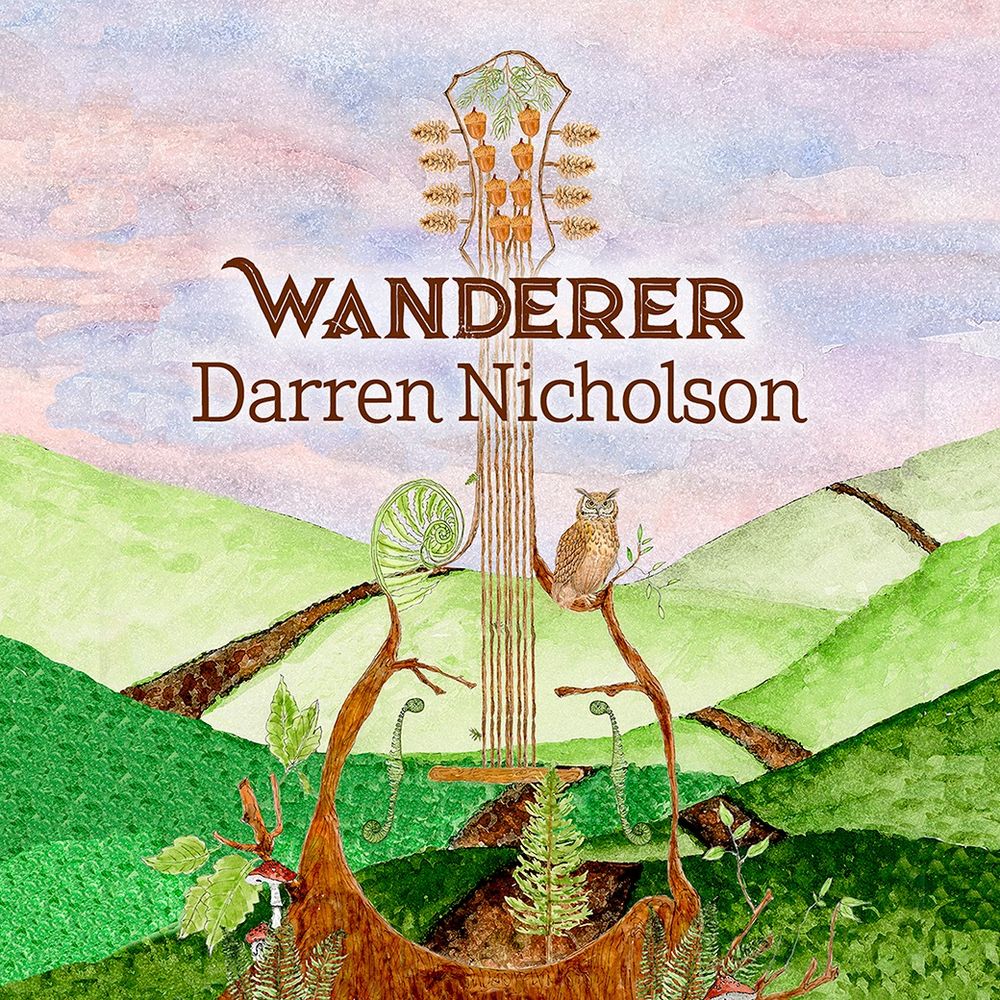 Wanderer – Mountain Home (2023)
Darren Nicholson
This year was full of surprises with a ton of releases! Here's one that stood out to me. The new solo project of mandolin player Darren Nicholson of Balsma Range titled, 'Wanderer'. I didn't really expect this one so I was happy when I heard about it and even happier when I listened to it. It's a good one.
First I was a little disappointed when I realized that there are only eight songs on this album. But was quickly pleased when I saw the that they were all originals, and that Darren found some extraordinary co-writers for these songs. Co-writers include; Mark 'Brink' Brinkman, Mark Bumgarner, Eric Gibson and Charles Humphrey III, well known for his work with the Steep Canyon Rangers and Songs From The Road Band among others. Another guarantee for this record's quality are the musicians involved;
Darren Nicholson sings lead and harmony vocals and, also plays the mandolin and octave mandolin. Colby Laney is on guitar and Zachary Smith is playing the bass. Wes Corbett is picking the banjo on all but one track where the banjo is played by Darren's band colleague Marc Pruett. The fiddle is played by Billy Contreras and harmony vocals are contributed by Derek Vaden, Colby Laney and Jennifer Nicholson. And on the closing track we get the Mountain Home Clappernacle Choir consisting of Jon Weisberger, Carley Arrowood, Chris Jones and Grace Ellen Van't Hof.
This final song surely is one of the highlights of this album. A gospel tune with a bluesy R'n'B feeling to it. It has a tight rhythm section and an uplifting vocal arrangement. Speaking of highlights, I have to mention the opener 'Arkansas Without You'. It has a nice drive and sort of on the road vibe, with almost a Gordon Lightfoot like chord progressions. Third highlight is 'Second Wind', co-written by Eric Gibson. This track has a beautiful mid-tempo full on bluegrass feel. It clearly translates the emotions from the lyrics that tell us, after a hard working day you might have the chance of a second wind to cut loose with.
This doesn't mean that the other tracks on this album are fillers – absolutely not. Just take the amazing instrumental on this album, 'Dillsboro Blues' for example. It is way more than the usual, 'let's give everyone the possibility to shine on their instrument track.' It's a great addition to the selection. Starting off as a real blues in the first few bars, it soon turns into a swinging jazzy flamenco fairy tale that really tells a story if you listen close enough…, and Darren's mandolin has a lot to tell us.
Darren Nicholson has been in the business quite a while and there is nothing much left for him to proof. So, he seems to enjoy the freedom to do what he really wants to do. He is the wanderer across the whole spectrum of bluegrass. "Don't care where I go – I need a place my heart can stay," he's singing in, 'Take Me Away.' But, wherever his musical ambitions and his variety may take him, his heart belongs to bluegrass. I seriously hope that this record gets the recognition it deserves.
Reviewed by:
Severin Theinert for
Uncut Grass
September 2023