VIDEO SPOTLIGHT
JOE HOTT - 615 HIDEAWAY RECORDS
Striding confidently onto the Nashville music scene, Joe Hott is poised to become a "must see/must hear" new face and voice for a broad scope of new listeners ready to discover that "all things old become new again." 
Joe is a unique blend of retro-bluegrass, traditional country, gospel music and Appalachian mountain music. This mixture makes the West Virginian Joe Hott a rare treasure on today's music scene with his 6-foot, frame and handsome boyish resemblance to Hank Williams, Sr.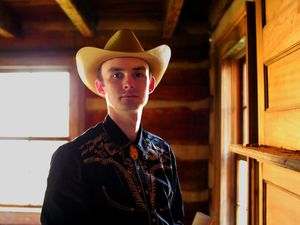 "I really cherish the family and spiritual values I grew up with," shares the minister's son who at an early age found a fascination with the tradition steeped sounds native to his birthplace of Winchester, Virginia. Early in life, his family would move to West Virginia, where he readily picked up his childhood love for music from both a father and two uncles who played traditional music. Joe's youthful fascination with the blended soundtracks of Dr. Ralph Stanley, Bill Monroe, Flatt & Scruggs, and Hank Williams, Sr. spun the fabric of his creative inspiration as well as the formation of his own vocal and musical interpretations and the base for his songwriting. 
In 2012, Joe formed "Short Mountain Brothers" trio—the name of the group a tribute to Short Mountain that looms just behind Joe's boyhood home. With the addition of a fourth musician, Joe now tours with his renamed "Short Mountain Band" featuring guitar, banjo, bass and mandolin. They have shared the stage with artists such as Rhonda Vincent and Vince Gill & the Time Jumpers, connecting with new fans on each concert stage. 
Targeting today's music and maze of radio programmers and charts needed to reach an audience, Joe and his creative team are confident he has the authenticity to reach both old and young with his presentation of the traditional. 
"People like what's real—and that defines my music," he enthuses. 
His debut album The Last Thing on My Mind left little doubt that classic sounds are perennial—and Joe Hott is here to prove it. It would earn him a 2018 Inspirational Country Music Association nomination for "Inspirational Bluegrass Artist of the Year." Joe would release the single "West Virginia Rail" reaching #1 on the Roots Music Report's "Top 50 Bluegrass Song's Chart" and #3 on the Bluegrass Today Weekly Airplay chart. Consequently, he landed a spot on the coveted Rural Rhythm Records releasing his premiere project West Virginia Rail (the album) on the label in 2019. He closed 2019 with the single "Cry From the Cross" which debuted at #1 on Bluegrass Today's "Gospel Weekly Airplay Chart." It would go on to rank among the "Top 25 Songs of 2019" on Bluegrass Today's Gospel Charts. 
Joe's signature train whistle and sound have been featured on the Grand Ole Opry multiple times and he's won over industry reviewers throughout his career: 
"Joe Hott can be likened to country artist Mo Pitney in that they both sing in a style that hovers over the line between retro-bluegrass, or Appalachian mountain music, and country music" – Bluegrass Today 
"Joe Hott is a gem. Hott stands out as one of the most promising newcomers in the genre, and his future in bluegrass should be bright." – Digital Journal 
"West Virginia Rail has the feeling of first-generation, post-World War II bluegrass. Call it old-soul music. It goes to the heart of traditional bluegrass' claim on our emotions. In other words, you don't get to listen casually." – Rambles.net 
Joe has just wrapped up his next project for Nashville's 615 Hideaway Records label, due to release later this year. Be on the lookout for the singles as they become available worldwide!
Visit Bluegrass Music TV and the Wilson Pickins Video Blog for MORE fantastic viewing and listening experiences!
Video Blog. Wilson Pickins Promotions, a management company